Features
Organizers love our features — we think you will too!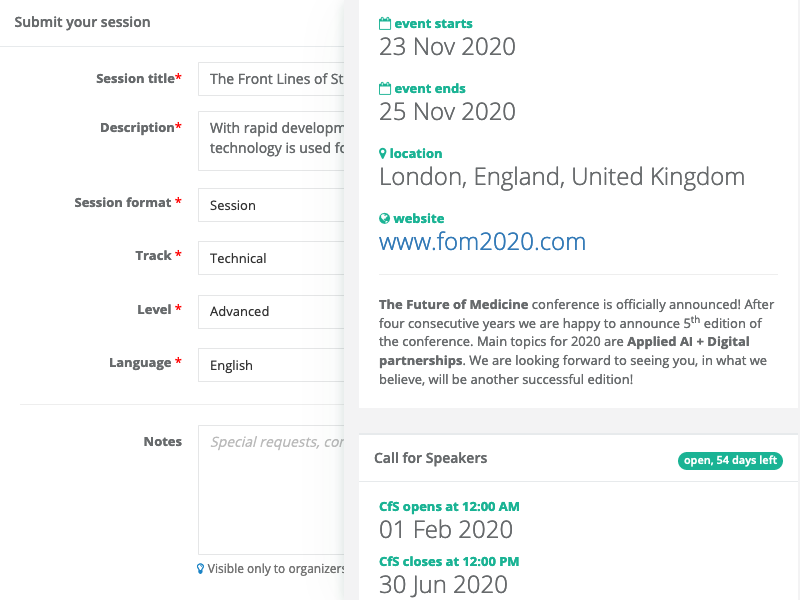 Call for Papers
Every event starts with the first talk submission — make it easy
No more online forms or emails — you can have your call for speakers in minutes! Custom categorization is very easy to setup, and it can help a lot when building agenda.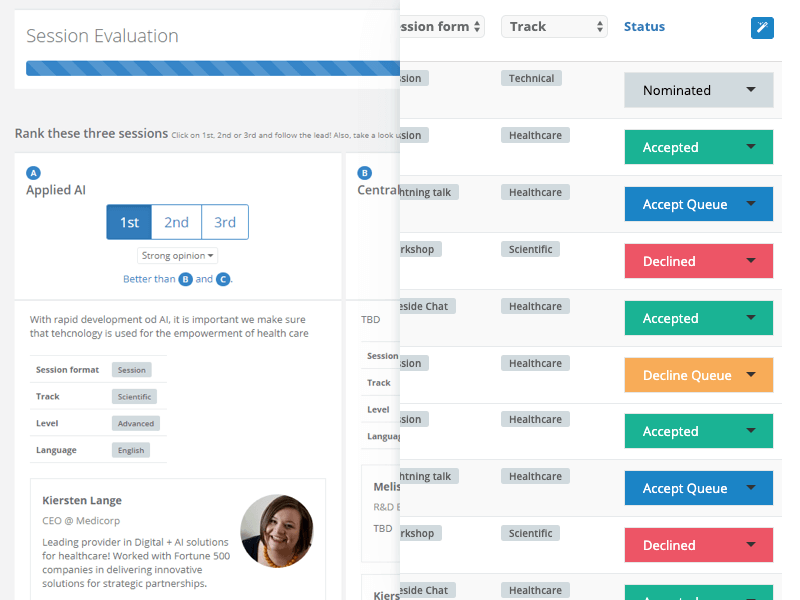 Evaluate Submissions
Easily curate content that will make your conference stand out
Invite your content team members to join you in voting for the best submitted sessions. Use our smart voting mechanism to select the best content for your event.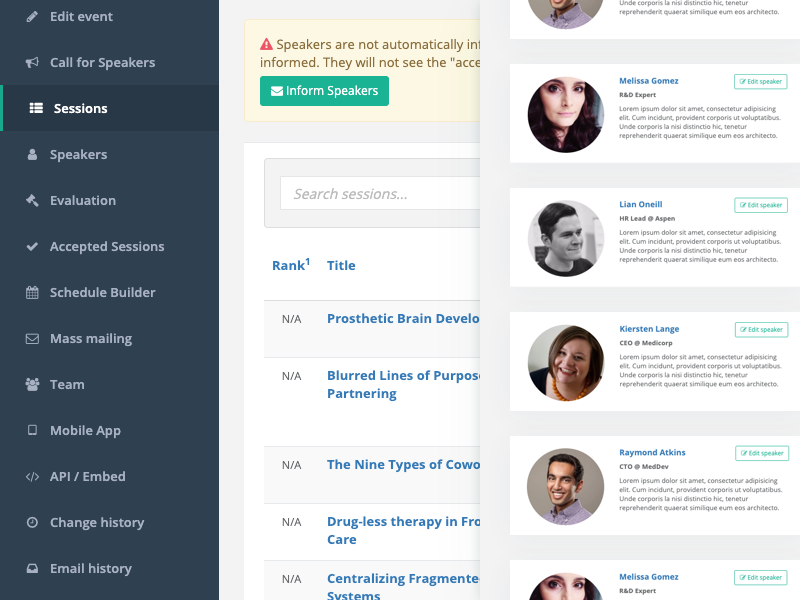 Manage Content
Everything in one place, easy to manage for you & your speakers
Edit all session and speaker info in one place. Allow speakers to edit or add their info. Manage service sessions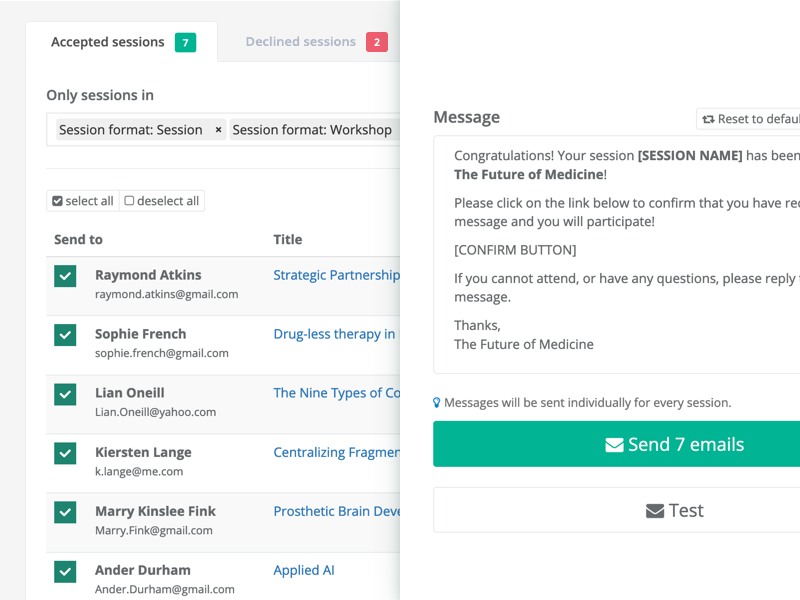 Communication
Your speakers are rock stars — treat them as such
Congratulate to the chosen speakers, gently reject those not as fortunate. Talk to your speakers, send them info, surveys and reminders; arrange travel details. Never leave a speaker behind!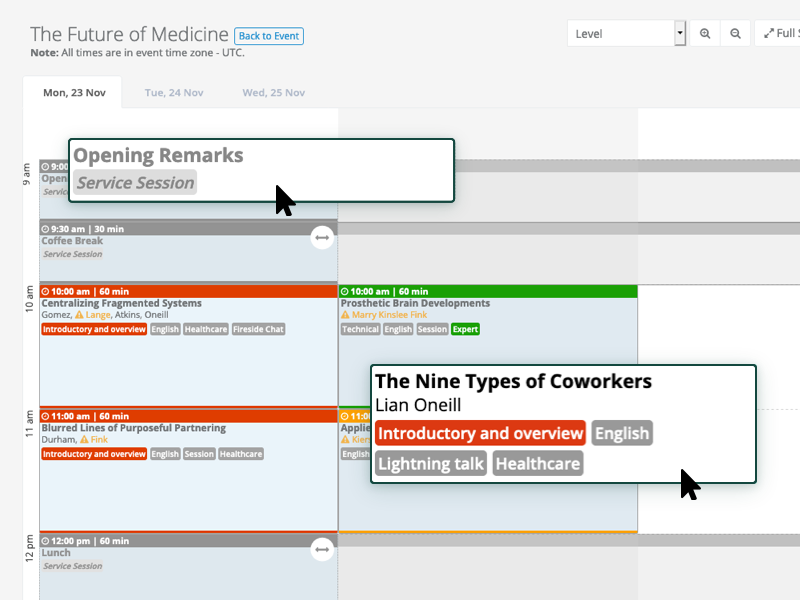 Build Schedule
Building an event schedule doesn't have to be hard
Just drag and drop your sessions around and end up with a complete schedule for your event. You can embed it on your website, or retrieve as JSON or XML if you feel more advanced.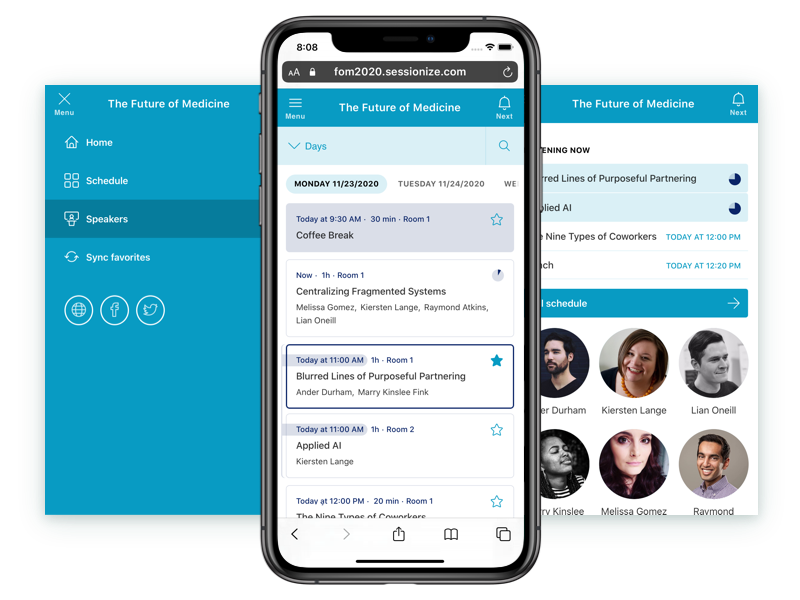 Mobile & Web App
The big day is here — make the content accessible to everyone
You can have a mobile app with schedule in seconds. Participants can favorite their sessions and build their own schedule.
...and much more!
Organizers, content editors, marketeers, developers, designers — we have you covered!
Easy registration
Organizers and speakers can use existing company, school or social account to login

Create classic username & password account if preferred
Call for Papers
From login to functional submission form in a few minutes

Call for speakers opens and closes automatically

NEW Customize colors to better match your branding

Secret link for speakers that can submit after the deadline

Optional public list of all submitted sessions

Submit as someone else (agent mode)

Limit number of submissions per speaker

Limit number of co-speakers per session

Email notification for each submission
Submission form
Custom session and speaker categorization and tagging

Custom session and speaker fields (text, files, links, consents, etc.)

Conditional logic: questions dynamically change based on previous answers
Content management
Advanced submissions searching, filtering and browsing

Public and internal fields, editable or locked

Session editing, tagging and commenting

Edit session details directly in the session list

Change sessions' statuses, individually or in bulk
Speaker management
Unlimited group mailings to accepted speakers

NEW Custom forms to collect additional data (e.g. presentations, travel info)

Send automated calendar placeholders to scheduled speakers

Advanced control on speaker's edit permissions

Session withdrawal procedure
Team
Unlimited number of organizers and evaluators

Full, partial or read-only access

Special roles for evaluators and developers
Evaluations
Guided evaluation process for your content team

Three types of evaluation: comparison, stars rating and yes/no

Create unlimited number of evaluation plans, one for each group of sessions

NEW Assign evaluators to each session, or let everybody evaluate everything

Detailed evaluation statistics and exports

Optional anonymous mode for unbiased evaluation

Fields can be hidden from evaluations to protect privacy

Send accepts and declines, and ask for confirmation

Include individual feedback with decline emails
Schedule builder
Drag & drop schedule builder with session coloring

Service sessions supported (registration, lunches, coffee breaks etc.)

Individual session scheduling with collision preview
Supporting community
Free fully functional tier for free community events

Special user group mode for meetups (recurring events)
Globalization
Online events supported

Live stream and recording links, per room or per session

Full timezones support

Show times in attendee's local timezone
Data
It's your data, you have full control

Change history to track all session and speaker changes

Log of all emails sent from the system

Export data to spreadsheet

NEW Download all collected files in one ZIP

Automatic data export to your email
Schedule publishing
Simple real-time embed for your web-page

Multiple views and formats supported

WordPress plugin available

Plain text schedule export, for mailings and announcements

Read-only API access for developers
App
Schedule app for attendees out-of-the-box

Installable on mobile phones

Works on tablets and desktop

Attendees can build their own schedule
Media
Easily create shareable social banners for all accepted sessions

Download all speakers' photos with a single click
Speaker benefits
The simplest submission experience for speakers

Live session status info and details

Public speaker profiles

Centralized talks management for all events

Discover new events to speak at
Simple pricing
One pricing tier, all-inclusive

All features at your disposal, use the ones you need

Unlimited number of sessions, speakers, and team members

Fully open and functional test mode, we've got nothing to hide
Support
NEW Playbook is a collection of articles to answer questions about Sessionize and help you make the most of it

Smart Task List to guide you through the whole process

Meaningful and helpful email support

Save time on content management and focus on other tasks (or just relax)
Sessionize is used across the globe, 127 countries and counting.