Managing conference content often feels overwhelming
As conference organizers ourselves — we've been there. That's why we created Sessionize, to help and streamline process by providing guidance and automation.
Sessionize by the numbers
142,000 speakers are using Sessionize to apply for conferences
36,000 speakers have public profiles on Sessionize
5,600 events have used Sessionize up to date
482,000 sessions submitted over time in Sessionize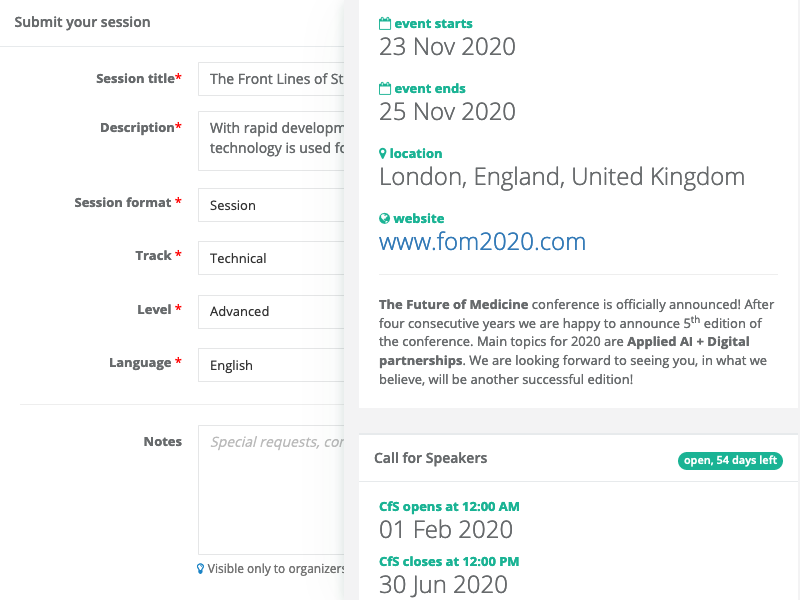 Call for Papers
Every event starts with the first talk submission — make it easy
No more online forms or emails — you can have your call for speakers in minutes! Custom categorization is very easy to setup, and it can help a lot when building agenda.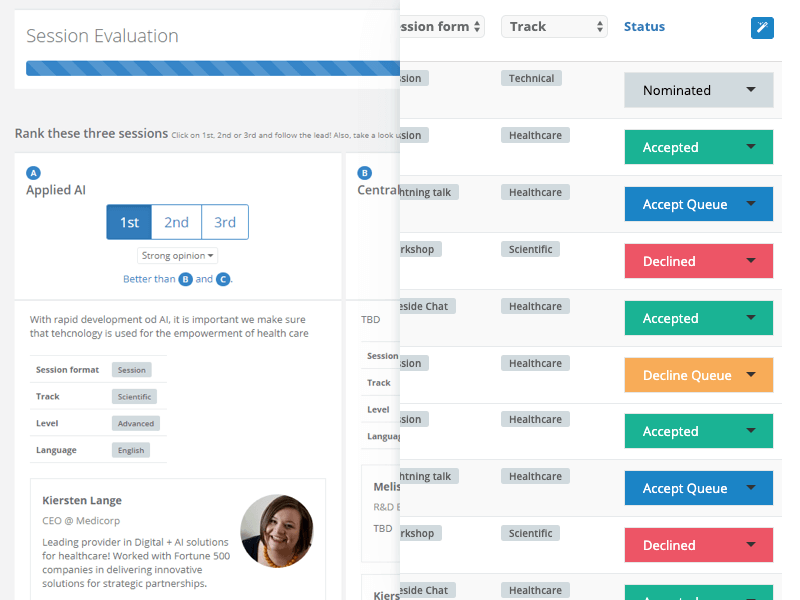 Evaluate Submissions
Easily curate content that will make your conference stand out
Invite your content team members to join you in voting for the best submitted sessions. Use our smart voting mechanism to select the best content for your event.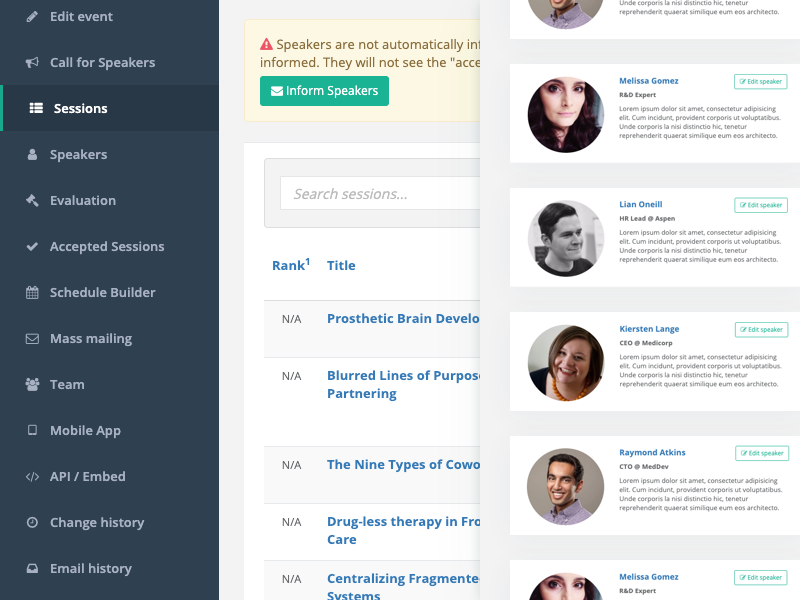 Manage Content
Everything in one place, easy to manage for you & your speakers
Edit all session and speaker info in one place. Allow speakers to edit or add their info. Manage service sessions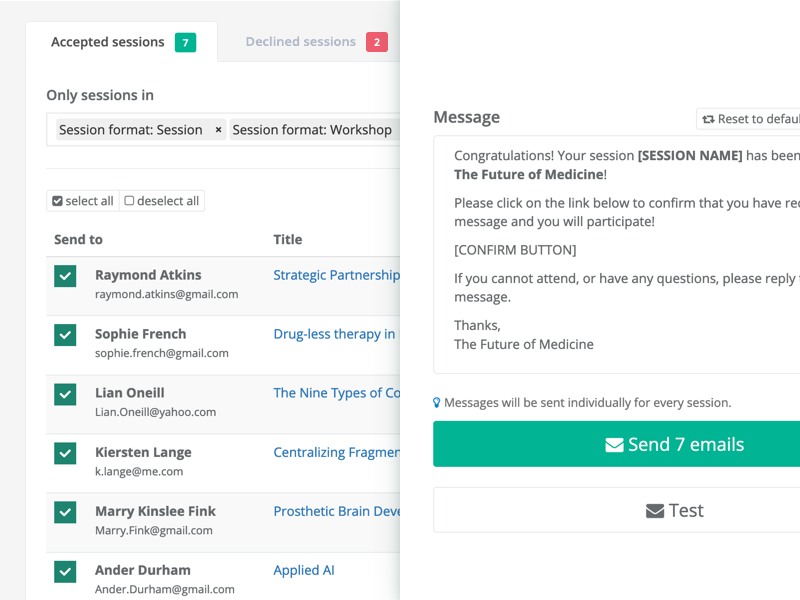 Communication
Your speakers are rock stars — treat them as such
Congratulate to the chosen speakers, gently reject those not as fortunate. Talk to your speakers, send them info, surveys and reminders; arrange travel details. Never leave a speaker behind!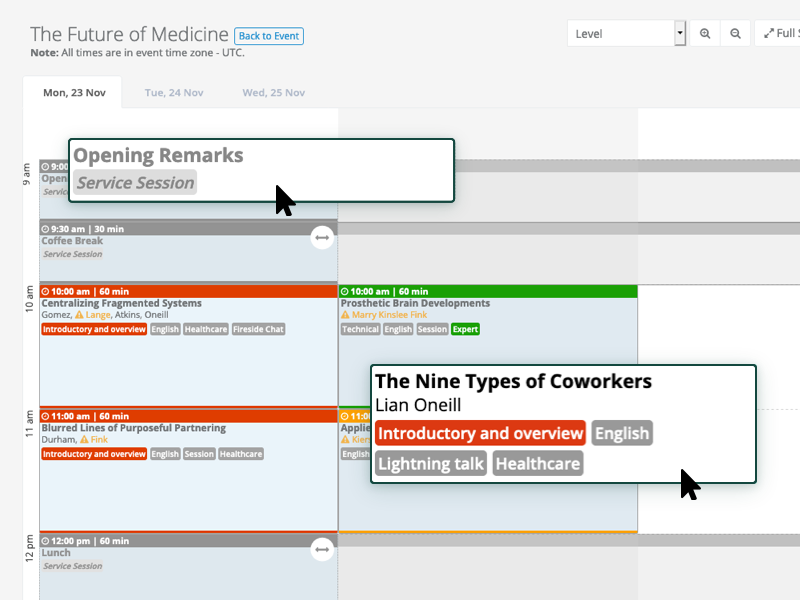 Build Schedule
Building an event schedule doesn't have to be hard
Just drag and drop your sessions around and end up with a complete schedule for your event. You can embed it on your website, or retrieve as JSON or XML if you feel more advanced.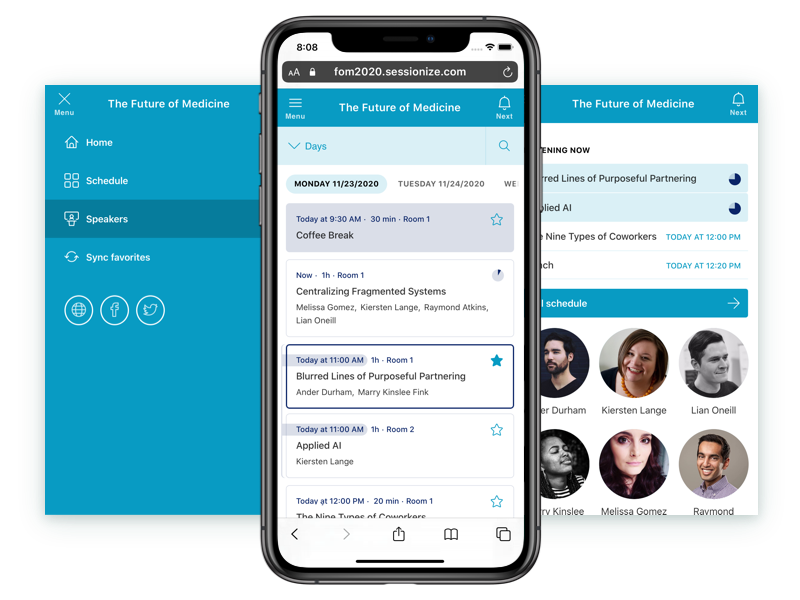 Mobile & Web App
The big day is here — make the content accessible to everyone
You can have a mobile app with schedule in seconds. Participants can favorite their sessions and build their own schedule.
Do you like what you see?
This is just the tip of the iceberg. View complete breakdown of all the features.
The simplest submission experience possible for speakers

Smart Task List to guide you through the whole process

Customizable submission page

Custom session and speaker categorization and tagging

Unlimited mailings to accepted speakers

Unlimited number of people in content team

Drag & drop schedule builder with session coloring

Public speaker profiles

Copy-paste embed on your web-page
In the spotlight
@SessionizeCom is the GOAT 🐐 We use it at @WeAreDevs and it's an absolute delight working with it - for speakers and organizers ❤️
Simple pricing
We keep it simple. All features included in each package.
Community event
Our way to support enthusiastic communities around the world
Good for free community events*
Backlinking appreciated
Professional event
Save time on content preparation and provide superb speaker experience!
Good for most events
Priority email support
499 USD

+tax
Valid for one event occurrence. No credit card required — fully functional test mode available.
*Special mode available for user groups / meetups with tailored feature set for recurring meetings
**Discounts available for community events with standard registration fee less than 50 USD per participant.
Sessionize is used across the globe, 127 countries and counting.